User Testimonials
SampleRobot is a great app and is making my life so much better. Well done. We love you!

Mark Wilcox from San Francisco, Product Designer at Groove Synthesis USA, September 2023
Five Stars ***** technical support & customer care ! From the beginning we always had replies to our questions from samplerobot.com on a timely manner with a 100% solution or explanations to our questions. Guys ! Either before and after sale your support is top notch ! Thanks Christian, you rock at samplerobot.com !

PlanetKeyboard.com

Chris from France, CEO - Owner of PlanetKeyboard.com, July 2023
I love this software. FINALLY my modular synth recall dilemma is solved! Thank you!

Jason Todd Shannon from Atlanta, Georgia, USA, June 2023
Sample Robot is not only the most coveted tool in my arsenal but also absolutely can't be replaced by anything on the market. It's the only option for sound designers and producers who work on projects like I do and comes short in absolutely no areas. I've tried to leverage other systems and samplers with 'advanced re-sampling features' and even spending hours manually doing what sample robot's automated system does in the DAW, the results don't come anywhere close. Your products, service and support is top notch!

Dusti Miraglia from Florida, USA, Apr 2023
Sample Robot is AMAZING… And Helped Me Create this FREE LIBRARY in under 6 minutes! This is game changing.

Stephen O'Connell, Australia, Feb 2023
Tarek Mansur from Sweden, Dec 2022
Still loving Sample Robot here!

Sharooz Raoofi, Founder of SampleMagic.com, Nov 2022
SampleRobot has solved my sampling issues entirely, the software works flawlessly, and the customer service is stellar. For your samples locked away in a VST or synthesizer, it's a must-have.

Julien Claudinon from Montreal, Canada, Aug 2022
Made a few tests and wow, the software is amazing, is what I need.

Stephen from Garvan Tulcea, Romania, Jun 2022
I love the SampleRobot, it's such a great idea and great that it's coming for Iridium.

Matt Johnson of Jamiroquai, UK
I love the workflow and SR is nothing short of amazing. Such a joy to work with - and enjoying a process I was dreading.

Christian Cullen, Composer | Producer | Sound Designer @ Sounds Famous
Thanks to you and your development team for all of the hard work on SampleRobot Pro 6.5, which has become an invaluable centerpiece of the music, sound-design and sampling sessions here. Although I've used quite a number of similar tools down through the years, SampleRobot 6.5 greatly streamlines the sampling workflow, and has the best automatic loop search and loop-point setting functionality of any I've used previously.

Jacky Ligon, Composer, Sound and Visual Artist
SampleRobot still is the agent of choice for auto-sampling and looping. No other application is comparably comfortable and has such a reliability finding loop points. Value for money: 6 out of 6.

Marco Scherer, Beat Magazine
SampleRobot is absolutely essential to my music and development process. We couldn't have built the award-wining FM Player iPad app without SampleRobot. Thanks!

Matthew Fecher, maker of the FM Player and Director of Product for AudioKit Pro
SampleRobot is a very clever application. Sampling an acoustic instrument is, of course, a somewhat more labour-intensive task, but SampleRobot does make this task a whole lot easier than it would be using a conventional audio recording and editing application. Finally, I was also impressed by the 'Import Single Sound Library' function.

John Walden, Sound on Sound Magazine
Samplerobot has been a HUGE timesaver for me. Being on the road and not having access to my synths it is the perfect solution for quickly and efficiently multisampling hardware favourites. Essential software.

Sharooz Raoofi, Co-Founder of Sample Magic
SampleRobot offered top-notch support when I got stuck while using their software. They were patient and thorough and were able to get me up and running very quickly. Couldn't have asked for better service or software. SampleRobot has easily cut my product creation time down by 90% of what it used to be. I can't believe I went this long without it!

Chad Taylor, Owner ZombieFightsShark.com
This is an innovative tool. SampleRobot makes it easy to create multi-samples. The auto loop option can do everything for me. It's great that there are custom options for the normalize process of entire projects. The Wizard is a good way to configure the project.

Maciej Trzęsowski, Music Producer @ Lucid Samples
Loop Functions and Semi-automatic recording
AWARDS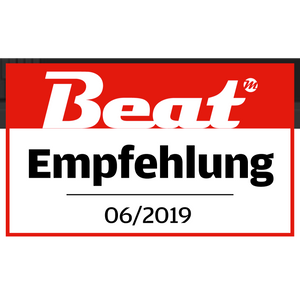 SampleRobot 6 receives "Beat Recommendation" distinction by German Beat magazine issue 2019/06.

Author: Marco Scherer
Translated quotes:
"SampleRobot was, is and will remain the number one when it comes to auto-sampling and looping."
"No other program finds better loop points and supports so many export formats."
"For Mac users this is a must-have update."
"As a new feature the long-awaited sampling of virtual instruments is now possible within SampleRobot."
"This (advanced normalizing) is extremely important for multisamples. We have not seen this feature anywhere else."
"So some DAWs and plugins offer the option to automatically record and loop multisamples but the quality and speed of SampleRobot is unbeaten to date."
Rating: 6 out of 6.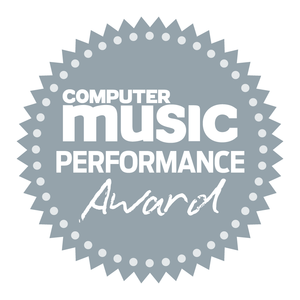 In the issue cm231 (July 2016) of Computer Music SampleRobot 5 Pro is bestowed the Computer Music Performance Award.
Author: Owen Palmer
"Sit back and let this powerful app clone your hardware or software instruments."
"We're blown away by the range of sampler formats that SampleRobot can export to."
"We can safely say that SampleRobot does everything it's supposed to do, and does it well."
"It has the potential to make your life much easier."
"Rating: 9 out of 10"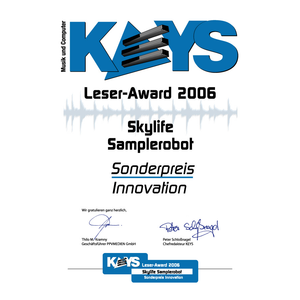 SampleRobot wins the Special Innovation Award from German KEYS magazine.

SampleRobot wins the Innovation Award 2006 of German KEYS magazine. Thanks a thousand to all readers of KEYS awarding this important prize to us and supporting us with their engagement. In the category Innovation SampleRobot could prevail over other well-known products like Korg Oasys, Native Instruments Guitar Rig 2, Access Virus TI and DigitalMusicianNet.